Why building the intended price perception should be part of every brand's strategy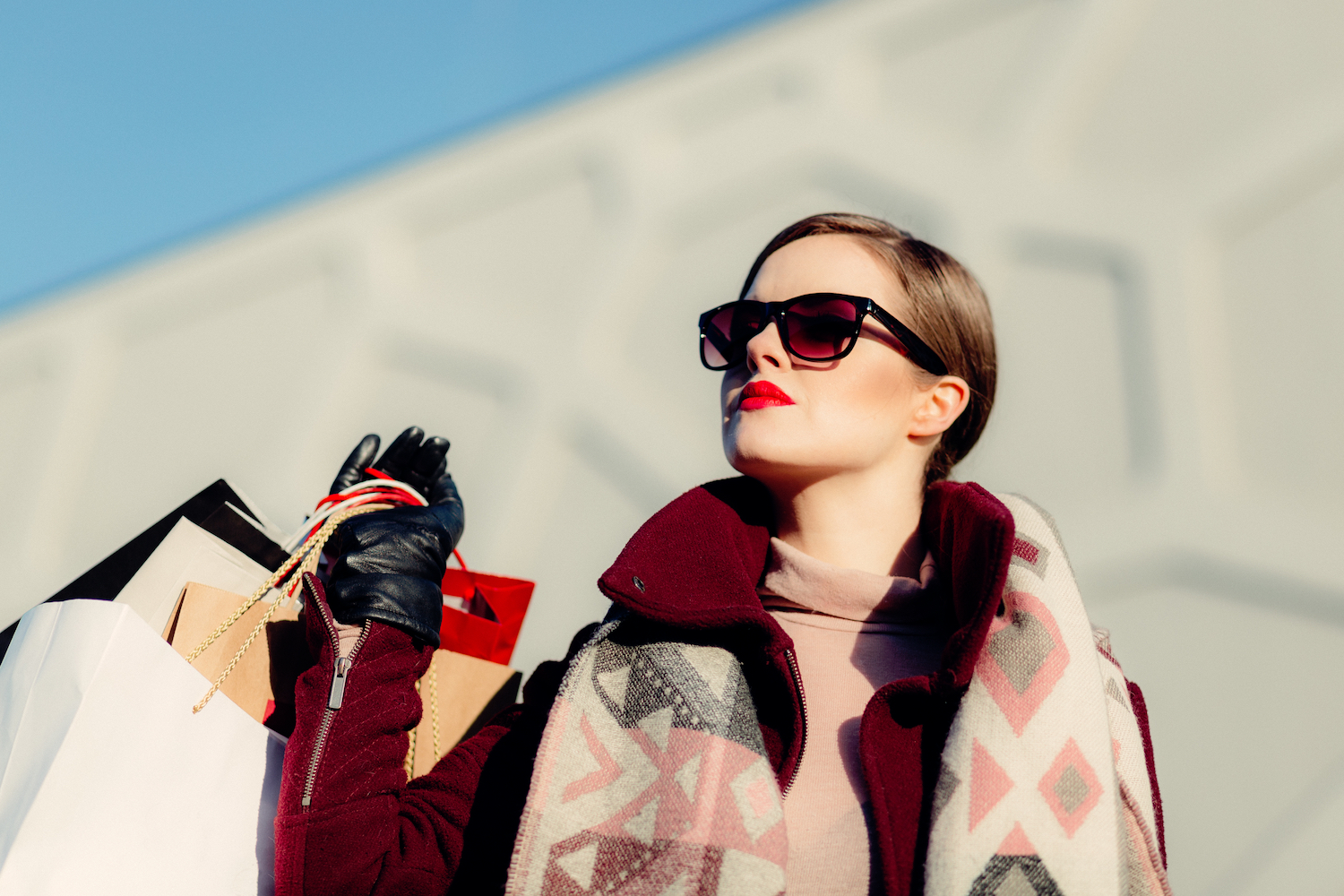 There are a number of research studies that prove that in many categories, price perception plays an equally significant role to the actual price itself. In other words, whether customers think of your brand as cheap, expensive or mid-range has a huge impact on their purchasing decisions. One might think that having a consistent pricing strategy is sufficient to place a brand correctly on the pricing spectrum in consumers' minds. It turns out that it is not and that the price position needs to be communicated in other ways as well.
Today we are analysing four scenarios, summarized in the matrix below: two situations in which the price perception is at the same level as the actual price and two where customers perceive the price as being higher or lower than it really is.
Price perception / actual price matrix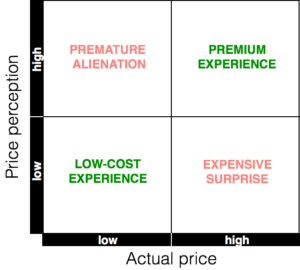 Low-cost experience
This is the first scenario, in which the actual price and the perception of it are consistent. This is represented in the bottom left quadrant of the matrix ("low-cost experience"). A brand offers low prices and the image it has managed to build is also that of a cheap product or service.
It is worth noting here that offering low prices is not sufficient for building such an image. A number of measures need to be taken to make people believe that a brand is inexpensive. The most important ones include branding assets (logo, colours, fonts, design style, packaging, audio-branding, etc.), messaging (people need to be reminded of the company's low prices) and tone of voice—the brand cannot come across as too aspirational or exclusive as that could undermine the affordability message.
Walmart, Lidl, McDonald's, Ryanair and economy private labels are a few examples of brands that successfully apply this strategy.
Premium experience
The second consistent scenario ("premium experience") is illustrated in the top right quadrant of the matrix. A brand offers high prices and it has managed to build a premium image. Similar to the "low-cost experience", building an image of a brand for which consumers expect premium pricing takes much more than just being pricier than the competition.
Examples of brands that follow this strategy include Mercedes-Benz, British Airways, Apple, Whole Foods Market and HBO, as well as all luxury brands.
Expensive surprise
An "expensive surprise" is a scenario in which a company or a brand is perceived by consumers as offering low prices but, in fact, applies a premium pricing strategy. Depending on the category, such inconsistency can either benefit or harm a business.
In product categories, where consumers rarely analyse the prices in great detail, the fact that they think something is cheap might be sufficient for them to buy it. They will give a brand the benefit of the doubt and make a purchase without, for example, comparing the price with competing brands. Many retailers apply this approach to some extent—on the assumption that their customers will not notice the difference, they build an image of a low-cost brand and charge premium prices for products that consumers do not buy very often.
In categories where consumers analyse the prices in greater detail, a discrepancy such as this needs to be addressed, otherwise, consumers looking for good deals will be negatively surprised by the actual prices and will choose a different make instead. Brands finding themselves in this situation can either adjust their pricing or make sure that their brand image is associated with high quality and, thus, higher prices. In one of our previous posts, we wrote about the steps that a company needs to take in order to build a more premium brand image.
There are a number of brands that, in the past, were perceived as being low cost but have changed their strategy and started to offer high-quality products with a premium price tag. Samsung, Huawei and LG are just a few examples of brands that experienced a mismatch between their new strategy and consumer perceptions.
A related point to consider here is that it takes years and a substantial budget to reposition a brand from low cost to premium in consumers' minds.
Premature alienation
The top left corner of the matrix represents the final scenario, which we call "premature alienation". This is a situation in which a brand has a premium image and consumers expect it to be expensive, whereas, in fact, it offers low prices. One might think that this is a better situation to be in when compared to the previous scenarios as consumers are positively surprised by a great value deal. However, this is often not the case.
Expecting the brand to be costly, consumers often do not even check the actual price, assuming that it is not something for them. The premium perception might alienate some of the consumers who could, in fact, afford to buy a product from this brand.
This scenario is often experienced by mid-range brands that try to build a more aspirational image to differentiate themselves from similarly priced competitors. This could be a double-edged sword as a more distinctive premium image might lead to the alienation of some of the more price-conscious consumers. On the other hand, some brands have been benefiting from such image discrepancy, for example, luxury brands offering more affordable lines and products or the entire category of so-called affordable luxury (e.g., Coach, Kate Spade or Michael Kors).
Each of the analysed scenarios can be a commercially valid business strategy. However, in the long-run, the two scenarios in which price perception does not reflect the actual price are much more difficult to manage. All four approaches require regular competitive analysis and brand measurement.
To receive our bi-weekly newsletter with the latest blog post and update on new brand case studies added to BrandStruck, just send your email to brandstruck@brandstruck.co with the title: Newsletter.
If you need help with research or want to hire Magda for a brand strategy-related project, email her at: magda@brandstruck.co
Magda Adamska is the founder of BrandStruck.

BrandStruck is the only online database of brand strategy case studies.
This is a tool that is dedicated to brand and marketing professionals, allowing them to better understand the positioning of the world's most admired brands, the similarities and differences between them and to learn more about certain categories.