The most practical brand resource you probably haven't heard about yet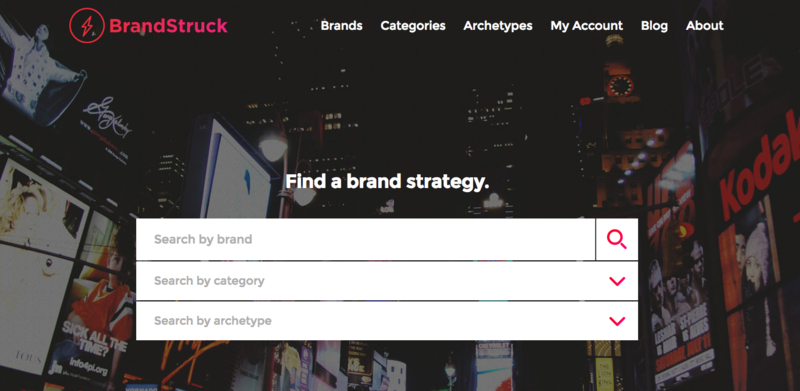 Can you tell what brands such as Apple, Coca-Cola, Samsung or McDonald's stand for today as opposed to what they were 5 years ago? What about less frequently analysed brands with equally strong strategies: Dr Pepper, Vice or BuzzFeed? Are you able to explain the differences in positioning between Nike, Reebok and Adidas, Jack Daniel's, Johnnie Walker and Chivas Regal or Philips, Sony and Panasonic?
Now you can find answers to these questions in one place in a matter of minutes – meet BrandStruck.
What is it?
BrandStruck is the only brand strategy database available online. It's a tool for brand and marketing professionals who want to better understand the positioning of the most inspiring and talked about brands in the world, get an idea of the similarities and differences between them, and learn more about certain categories.
To see what BrandStruck does, go to brandstruck.co and see how our search works. To read sample brand strategy analyses, click here, here or here.
What problem does BrandStruck solve?
If you are an agency strategist or a marketing professional, you probably already have access to various resources, which help you be better at your job: in-depth category reports, trend analyses, business case studies or newsletters with the latest marketing news.
The thing is, you rarely have time to utilise them in full. It's likely that you're too busy with the everyday work to follow what's going on in the marketing world on a daily or even weekly basis.
I felt this way, when I was a brand strategist myself. My clients always wanted our agency to inspire them with new brand case studies from all over the world. They were in particular interested in the brand strategies behind the best in class brands and their execution. Not to copy them but to expand the horizons and to be aware of what works and what doesn't. There was so much information available, yet it was nerve-wracking to find exactly what I was looking for. As a result, I was spending long hours on desk research, analysing communication activities of various brands to be able to decode their strategies. At that time there was no resource, which would make my life easier and offer this type of intel. According to the interviews we did before launching BrandStruck, brand and marketing strategists still do this type of research themselves, and in reality, there's never enough time to do it properly.
BrandStruck's mission is to free up time and resources, which would otherwise be used on brand and category desk research and spend them on what's more important – thinking and creating breakthrough strategies.
What's great about it?
There are 8 things that make BrandStruck highly practical:
1. The database is searchable by brand (e.g. Nike), category (e.g. sportswear) and brand archetype (e.g. Hero).
2. All brands are analysed using the same format to allow easy comparison.
3. Monitoring is done on a daily basis, regular updates and new content are added every week.
4. All analyses are prepared by experts with 10+ years' of brand strategy experience.
5. We deliver depth in few words. A single brand analysis takes 1-5 days to prepare and less than 2 minutes to read.
6. We apply a rigorous, opinion-free approach focused on finding brand consistencies.
7. Customers can influence the order, in which brands are analysed.
8. The price is more than reasonable.
How much does it cost?
BrandStruck has only just recently launched and we are still working on more brand and category analyses, which will be added on a weekly basis. Click here to check the list of brands, whose brand strategies we have already analysed. By January 2017, there will be 120 brands there and the database will be constantly expanded. Till then an early bird offer is available. At half the regular price, you can get unlimited access to BrandStruck for more than a year. Prices currently start at £124 per year, per user, but will jump up in January, so now's definitely a good time to sign up!
To join BrandStruck or check our pricing packages, go to: brandstruck.co/pricing/.
What's next for BrandStruck?
Based on the feedback we've received so far, over the next few months we will launch a few additional modules to make BrandStruck even more useful. We are already rolling out "the most important campaigns" and "must-reads" sections for all the brands. Analyses of corporate brand strategies featuring brand purpose, EVP and brand architecture will come next and will be followed by brand research – showing data for every brand regarding brand awareness, brand image, NPS and consumer profile in the UK and the US markets.
There's potential for even more after that, including digital strategy, financial results and local brands. Become a member now and be one of the first signed up to what will soon become a brand encyclopedia.
If you have any questions, please email me on magda.adamska@brandstruck.co
To receive our bi-weekly newsletter with the latest blog post and update on new brand case studies added to BrandStruck, just send your email to brandstruck@brandstruck.co with the title: Newsletter.
If you want to hire Magda for a brand strategy-related project, email her at: magda@brandstruck.co
Magda Adamska is the founder of BrandStruck.

BrandStruck is the only online database of brand strategy case studies.
This is a tool that is dedicated to brand and marketing professionals, allowing them to better understand the positioning of the world's most admired brands, the similarities and differences between them and to learn more about certain categories.